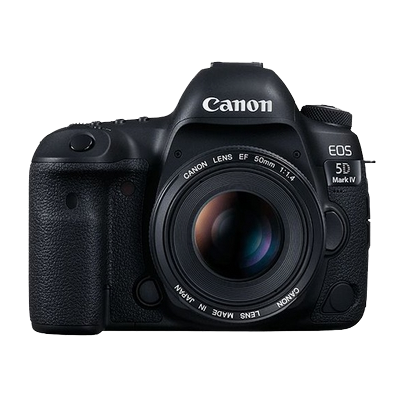 This tutorial shows how to use
Canon
cameras as
high quality
and
low delay
USB webcams
in apps like
Zoom
,
Skype
,
OBS Studio
.
Canon DSLR-, system-, and mirror-less cameras offer excellent video quality and full control over image parameters such as exposure, sharpness, blend, white balance, and ISO levels and thus are well suited for high quality live video streaming.
Prerequisits
Apple macOS 10.13 or newer.
Microsoft Windows 7/10 (32bit or 64bit).
Webcam driver for Canon cameras (download here).
Setup
First, download and install the macOS or Windows webcam driver for Canon cameras from here.
Note: On macOS you have to right click on the downloaded file and then select "Open".
After installation connect your Canon camera via USB. Then start the "Webcam Tool for Canon Cameras". If the camera is not in the list of cameras then enable "Movie" mode on the camera.
If you have multiple Canon cameras connected to your computer then you can now select the camera which you want to use as a webcam.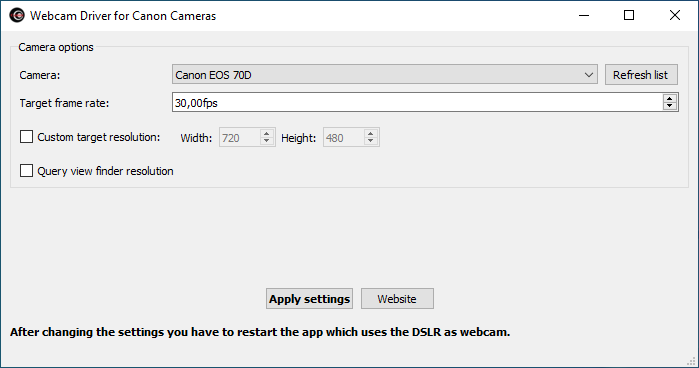 Now the Webcam Tool for Canon Cameras can be closed and your camera is ready to be used as a webcam.
The next screenshot shows the webcam driver for instance in the Zoom app:
Compatible cameras
The following table shows a list of compatible cameras at the time of writing of this tutorial:
EOS 1D X MARK III
EOS M200
EOS M6 Mark II
EOS 90D
PowerShot G7X Mark III
PowerShot G5X Mark II
EOS SL3
EOS RP
Powershot SX70 HS
EOS R
EOS M50
EOS REBEL T7
EOS REBEL T100
EOS 6D MARK II
EOS REBEL SL2
EOS 77D
EOS REBEL T7i
EOS 5D Mark IV
EOS REBEL T6
EOS 80D
EOS 1D X MARK II
EOS 5DS
EOS 5DS R
EOS REBEL T6s
EOS REBEL T6i
EOS 7D Mark II
EOS REBEL T5
EOS 70D
EOS REBEL SL1
EOS REBEL T5i
EOS 1D C
EOS 6D
EOS REBEL T4i
EOS 1D X
EOS 5D Mark III
EOS REBEL T3i
EOS REBEL T3
EOS 60D
EOS REBEL T2i
EOS-1D Mark IV
EOS 7D
EOS REBEL T1i
EOS 5D Mark II
EOS 50D
EOS DIGITAL REBEL XS
EOS DIGITAL REBEL Xsi
EOS 1Ds Mark III
EOS 40D
EOS 1D Mark III